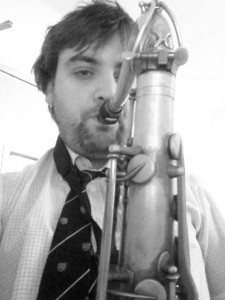 I graduated from Leeds Music College in 1998 and since then I have been playing and teaching the saxophone professionally.  Music has taken me all over the country with spells living in London and more recently across The Midlands. In the summer of 2013 I took the decision to relocate back to my Yorkshire roots.
As a teacher I have over fifteen years of experience working in a host of different situations with a wide variety of students in terms of age, experience and ability. I have worked for Ealing Music service, Northamptonshire Music and Performing Arts Trust as well as running workshops/improvisation courses for Warwick School, Rugby School and The Stables as part of their Education Department.
As a result of this work I have been very fortunate to teach some of the best young saxophonists in the country. Ex students have gone onto gain places at the Royal Academy of Music, Trinity College, Royal College of Music, Guildhall, Royal Welsh and Birmingham Conservatoire. My students have also been successful in gaining places on the Royal Academy of Music Junior Department Jazz Course and at Purcell School of Music. Many of my students have also played with the National Youth Jazz Collective.
As a performer I have played extensively all over the country, performing a wide variety of musical styles anything from Jazz standards to Bach.
The following video shows me conducting the Northamptonshire County Youth Big Band.